About Don't Stop Us Now and your Co-Hosts Don't Stop Us Now!
We launched Don't Stop Us Now! because we believe the world desperately needs more women to get involved in shaping our future in this era of rapid change and disruption.
We also know too many fabulous women who are capable of great things yet they hold themselves back from reaching their full potential, often because they feel they're not quite ready yet or not good enough yet. Hell we get it. . . we've been those women as well, multiple times!
So, here at Don't Stop Us Now! you'll hear the real stories of STELLAR female innovators, pioneers and original thinkers from all around the world. We bring you their sometimes vulnerable but always compelling, 'warts and all' stories to remind you that everyone struggles with doubts, fears, vulnerabilities or tough times at some point.
We're excited to share the stories of how these women have found ways to break through times of struggle or hesitation and hope you'll leave feeling inspired and motivated.
But wait there's more . . .
You too can be smart and brave, we'll show you how
Whilst we're confident our conversations with amazing and inspiring women will leave you feeling inspired, we also want to help you take positive action. So we've created 'How To' episodes which explore common career issues and pain-points. These episodes share simple, evidence-based tools that you can try to help you become that little bit more unstoppable.
Why us?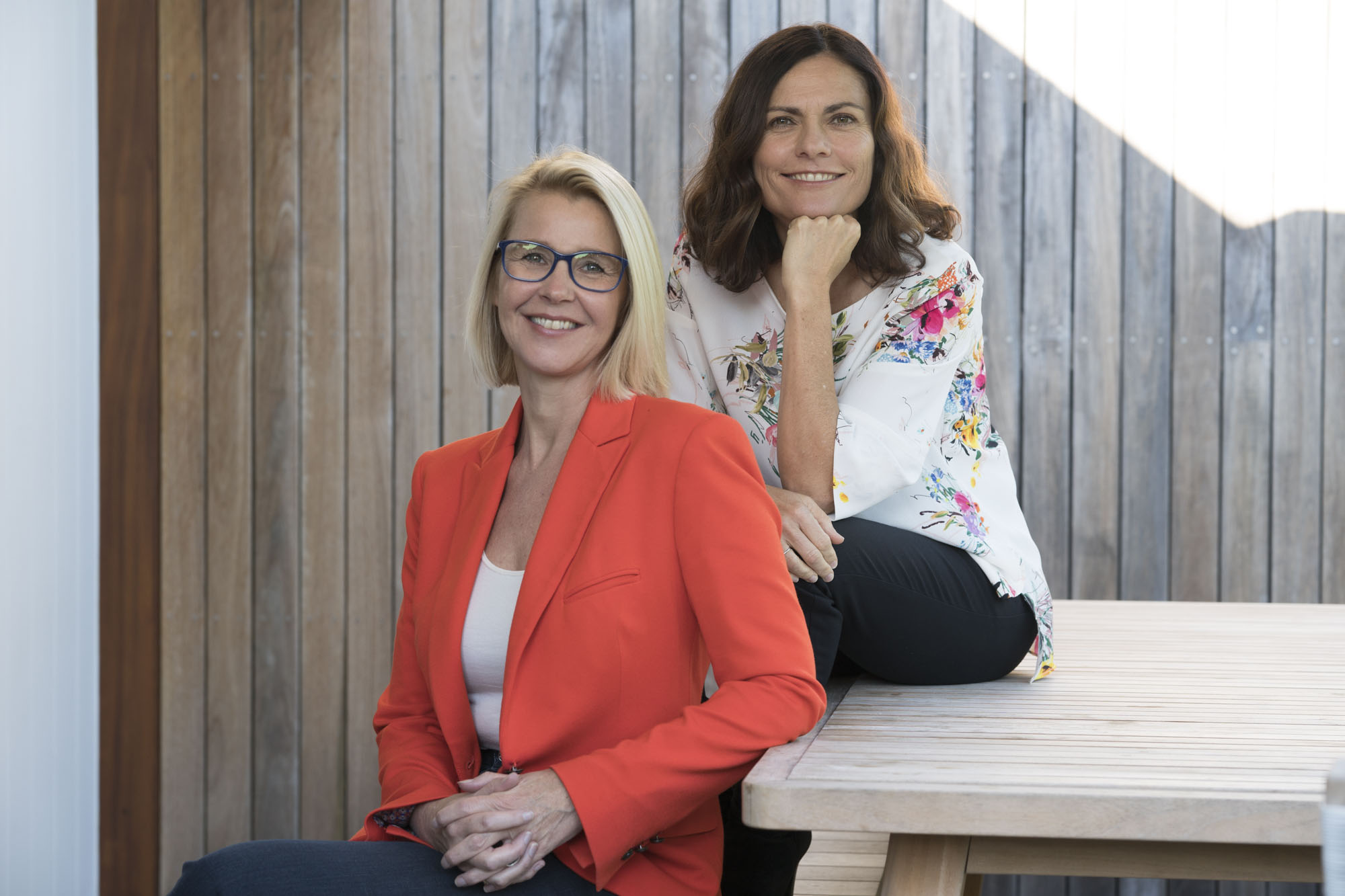 Photo Credit: Mark Rogers
We have many years of experience as leaders and have both faced our fair share of challenges, as we'll reveal as the podcast goes on. We've both succeeded and struggled in male dominated environments and have got to the point where we're lucky enough now to share our experience and skills with our corporate clients, with the company Boards that we sit on or advise, and with you.
In recent years, we're proud to say that we've worked with some phenomenal brands including Google, Salesforce, Qantas, Twitter, Quantcast, Apple, Fonterra plus many others.
About Claire
I grew up in the UK, but from an early age I knew I wanted to explore the world.
I've worked and lived in eight countries including the UK, Malaysia, Taiwan, China, Indonesia, Singapore, Switzerland and Australia.
After university, I started my career with British Airways and after a number of postings ended up, at the age of 26, leading a large team in Indonesia as their youngest ever Country Manager.
Thanks to some forward-planning on the crisis management side of things, my team and I helped many people escape the country during the Indonesian riots in 1998. The newspapers called me the Angel of Jakarta and I was named a 'UK Person of the Year' for my bravery the following year – it was all pretty surreal.
Four years and an MBA from IMD in Switzerland later however, my world came crashing down when my husband Chris was killed in the Bali terrorist bombings. I floundered in life and in my career for a number of years after that, not really knowing what I wanted to do or where I wanted to be.
More importantly, my attitude to life changed forever…in a good way.
It became crystal clear to me that anything can happen at any time, and that time itself is the most precious thing we have. Chris's death made me even more determined to live my life to the full . . . and to inspire others to live their lives to the full as well.

Fast forward through numerous years doing everything from commercial photography to leadership roles in travel and technology, I then found my mojo with seven years at Google on the Australian leadership team as a Sales Director. I loved it. I was also able to discover and pursue two new passions, neuroscience and coaching. I studied Neuroleadership and coached extensively before going on to take the big leap from the corporate world to found Full Potential Labs, which I run with Greta.
We're a next-gen, global leadership development business and we're all about helping people and businesses be their best now and into the future.
This podcast is an extension of our work in that field because we're both so passionate about seeing more women in leadership and innovation.
I'm also on the board of a listed, global online education company called 3P Learning.
About Greta
My Mum died young, just 52. She was artistic and creative and dreamt of doing a range of things but her lack of self confidence quickly crushed all her dreams. I'll never know, the world will never know, what she may have become if she had reached her full potential.
This is a key reason for what drives me these days. If I can help one more person have the courage to take the first step towards a dream of theirs, then how great is that?
What's more the world needs women to be smart and brave now more than ever before – we want women to be instrumental in shaping our future society.
Now you know why I'm here, you might be asking what gives me the experience or expertise to be co-hosting what we hope will soon become your favourite podcast! 🙂
I've been lucky enough to have worked for, and helped build some of the world's best known brands and businesses.

I started unconventionally as a professional ballet dancer but went on (via TV reporting & MBA studies) to work for the management consultancy, McKinsey & Company. I launched eBay in Australia as Chief Marketing Officer and I've been on the leadership team of Sydney Opera House. I've also worked internationally out of London and Europe for an amazing startup that Bono co-founded called, (PRODUCT) RED, launched to help finance the fight against AIDS in Africa.
One of my passions is advising or helping to build start-ups, I'm up to 7 so far including several in the fintech space. Another passion is advancing women, and through the leadership development business Full Potential Labs (which I run with the brilliant Claire!) I give keynote presentations and run career programs for women.
I'm also a non executive director and an advisor to the Board of Australia's largest credit union.
Our Team
We couldn't have launched this podcast without a fabulously talented and wonderful group of people who have helped us along the way. They include:
Laura Wiese – awesome audio editor – laura@timetraveleraudio.com
Josh Murray – dazzling designer – www.joshmurray.com.au
Binny Talib – incredible illustrator – www.binny.com.au
Sophia Athas – sensational content strategist – www.hatrik.com
Matt Callow – wonderful web builder – www.mattcallow.com.au
Mark Rogers – phenomenal photographer – www.markrogers.com.au
Michelle Aikin – magnificent makeup and hair – www.micheleaikin.com
Lucy Alder – sartorial stylist – www.sophiehart.com
Justina Oakes – super support crew